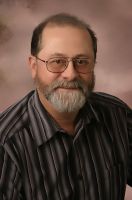 CFP®, CFS
Rick Reese has been assisting individuals and business owners in the pursuit of their financial goals for more than twenty-five years.  His business has grown primarily by word of mouth; some families have as many as four generations of investors working with him!  The Consumer's Research Council of America named him one of America's Top Financial Planners for 2005-2006 and for 2006-2007, and was recently admitted to the prestigious Paladin Registry of Financial Professionals as a "Five Star Advisor".
Rick specializes in full time professional management of your investments, allowing you to benefit from his years of experience and relieving you of the enormous amount of detail work entailed in creating, monitoring and maintaining a successful investment portfolio.  He is also well qualified to assist you with your Retirement, Estate and other Financial Planning concerns.
Rick holds the following certifications and registrations:
CFP®                                Certified Financial Planner™

CFS                                   Certified Mutual Fund Specialist

NASD Series 7                General Securities Representative

NASD Series 24              General Securities Principal

NASD Series 63              Uniform State Securities Licensing

NASD Series 65              Investment Advisor Representative

Life & Health Ins               Wisconsin Insurance Intermediary
He is registered for Investment Advisory Services in FL, MN, MI and WI and registered to sell securities in AZ, FL, MD, MI, MN, IL, and WI.  
Rick spends his free time fishing the lakes and rivers of Wisconsin, often in the company of a client.